It makes me sad that Thanksgiving is often overlooked or underappreciated because of Christmas coming on its heels.  I want to take advantage of the premise of this thankful holiday and help my children be so enchanted by a experiencing gratitude that it sticks with them all year long.
Here's how our family does it:
(Click on the blue links to read details for each idea.  Or, to skim down all former Parenting with Scripture Thanksgiving ideas, including the ones below, click here.)

Thanksgiving Traditions
Family rituals are the things that your children will look back and remember.  We try to create a few of these for each holiday.
Thankful Travel Time involves no supplies…just some purposeful car time.
Thankful Turkey is a must-have member at our annual family gathering.
Thanksgiving Teachable Moments
Keep an eye out for examples of thankfulness to use as teachable moments.  I share my favorite one here…contagious thankful hearts.
Thanksgiving Hands-On Crafts
Thankful Tree is a fun and tactile way for younger ones to visualize gratitude.
Grateful Hearts is a way for all ages to express thankfulness through Scripture.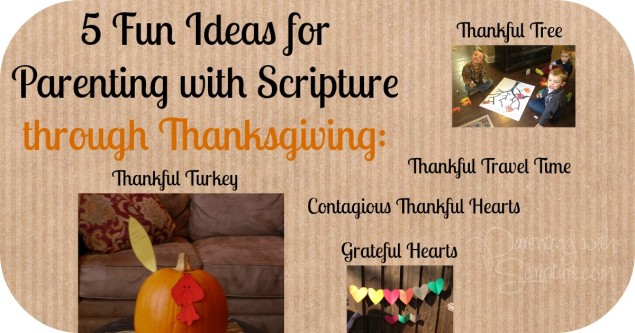 Looking for meaningful Christmas presents for friends, family members, or teachers?  Consider gifting copies of Parenting with Scripture: A Topical Guide for Teachable Moments.   If you are local (Dallas area), I'm happy to sign them!
| | |
| --- | --- |
| Monday 16 November, 2015 | Copyright ©2015, Kara Durbin | read more>> |