Monday 16 March, 2015
Last April Fool's Day I had a few of you thinking I had lost my mind with my "Pet Parenting with Scripture" blog title.   However, the concept did actually bring up some interesting points and I wanted to include a couple of additional ones here.
Caring for Pets –
Reader Kay Pickar shared the following in response to that blog –
A righteous man cares for the needs of his animal, but the kindest acts of the wicked are cruel.
Proverbs 12:10
We've had to talk about this verse a few times when the kids were too rough with a pet
or they didn't want to take the time to feed our pet.
It's been a good discussion.
Conversation to have with your kids about animals before it's too late!
Yes, we need take good care of any animal we bring to our home as a pet.
However, we also need to help kids understand the value of their lives versus the pet's. 
Anyone else have a door dasher dog?
We've got two of our own and have fostered a few through a rescue group, and this is our cautionary tale… 
One day, foster Gumbo bolted out the door and the kids and I dashed after him as fast as we could.  I was terrified that Gumbo was going to dart in front of a car.  But, I was even more terrified  that my kids would run into the street after him without thinking since they were in such hot pursuit after this little doggy that we had been entrusted to care for and had come to adore.
Thankfully we caught him, but it reminded me that I needed to have a serious chat with my kids about the value of their lives versus our pets'. 
I shared the following – 
*As much as we love our pets/animals, people are always more important.
*If it's a choice between the pet or you getting hurt, make the decision to keep yourself safe. 
Then I threw out several "What if?" scenarios to see if they really understood.
I want them to have already thought through these things so they will be equipped when split second decisions are necessary!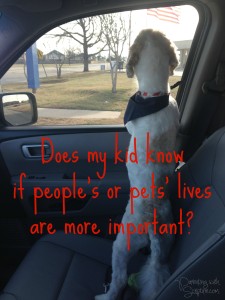 This is serious business, folks!
I'm still haunted by this tragic news story where three family members drown trying to save their dog.  After watching my kids running after Gumbo to try to catch and protect him,  I can more easily see how something like that could happen.
Hence, my conversation with my kids and my encouragement to you, my lovely readers, to do the same.
This was the day we picked up Gumbo from the rescue.
He was a scruffy mess, but stole my heart right away!

Lookin' good after his first grooming!
He could finally see the world!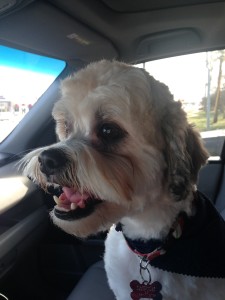 For teachable moments on all sorts of topics, don't forget to refer to your copy of
Parenting with Scripture: A Topical Guide for Teachable Moments.
Comments Off

on Caring for pets & a conversation to have with your kids before it's too late!

Posted In:

read more>>