Last year I was hosting Thanksgiving for my side of the family and wanted a fun way for all ages to give thanks.  I spied a big pumpkin that was still hanging around and came up with the Thankful Turkey.  The idea is for everyone to write something they are thankful for on a feather.  However, the catch is that everyone must read all the feathers that have already been written, because no two thankful feathers can be the same.  This year, to extend the idea, my immediate family will start adding feathers several days leading up to hosting my husband's family on Thanksgiving.  The templates I used for the turkey head, feet, and feathers are copyrighted or I would have gladly attached them.  But, I think they are simple enough to eyeball and sketch out your own to match the size of your pumpkin.   Enjoy your Thankful Turkey!  Gobble, Gobble!
Supplies: 
Big pumpkin
Wooden skewers (from the grocery store…bbq skewers)
tape
pens or markers
cardstock or construction paper for the head, feet, and feathers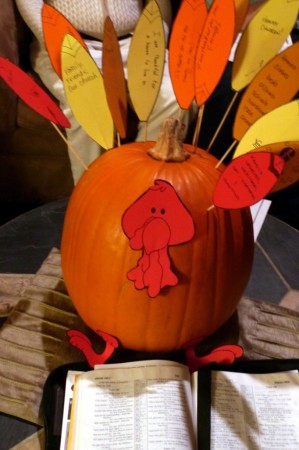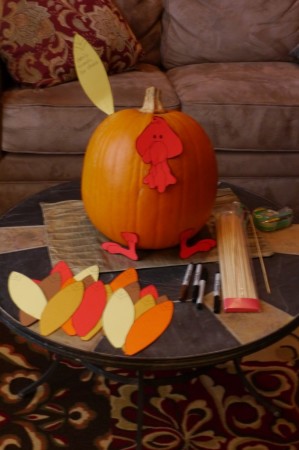 Enter his gates with thanksgiving and his courts with praise; give thanks to
him and praise his name. 
For the Lord is good and his love endures forever; his faithfulness
continues through all generations.
Psalm 100:4-5
| | |
| --- | --- |
| Monday 12 November, 2012 | Copyright ©2012, Kara Durbin | read more>> |