Monday 4 February, 2013
I'm a sucker for themed crafts and activities.  These are some of our favorite wintry fun ideas that our family has enjoyed from they time the kids were itty bitty through elementary school. 
Crafts
Jesus Loves Me "Snow" Much!
Use a paintbrush to paint the child's foot white with non-toxic washable paint.  Then, help the child make the footprint on blue paper.  Once dry, decorate the snowman and write, "Jesus Loves Me "Snow" Much!"   Don't forget to add the year, as this will be a keepsake to pull out every winter.  You might want to make extras to mail to grandparents or other loved ones, changing it to "Jesus Loves You "Snow" Much!"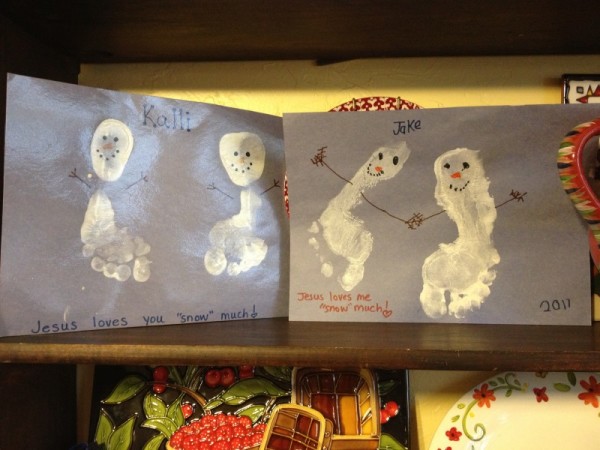 Make icicles!  Draw a jagged lines across the middle a white piece of paper.  Cut out multiples of these and use both halves.  Tape them so that they hang along shelves and window frames to look like icicles have formed inside.
Snow Scene with Frosty: Cut out an outline of a snowman on white paper.  Let the child glue the snowman to a dark blue or black piece of paper and color the snowman and paper.  Then, rub the side of white chalk back and forth across the paper to create snow.
Bake
Iceberg Cookies
2 egg whites
1/8 tsp cream of tartar
1/8 tsp salt
1 tsp vanilla
½ cup granulated sugar
brown paper lunch bags
Beat egg whites, salt, cream of tartar, and vanilla to form soft peaks (don't overbeat…it will still be foamy).
Gradually add sugar and beat until stiff peaks form. Scrape sides of bowl frequently.  Place several paper bags on a baking sheet.  Drop spoonfuls of the mixture on the brown paper.  Bake in 250 oven for 25 minutes.  Cool completely before serving. 
Snowflake Tortillas
Fold a tortilla into fourths and let your child take several bites out of the edges.  Unfold, spread butter, sprinkle with cinnamon and sugar, and bake for 8-10 minutes on 350. 
Act
Action Rhyme:  BRRRR  w/motions
Brrrr…. It's cold outside.  (Hug yourself and shiver)
Brrrr…..It's cold outside.  (Hug yourself and shiver)
Put on your mittens and your nice warm hat (Pretend to put on mittens and hat)
'Cause, Brrrr…It's cold outside.  (Hug yourself and shiver)
Play
Pin the nose on the snowman:  Make a snowman face on a white paper plate or circle of white paper.  Draw a snowman face without the nose.  Cut out some orange triangles (carrots), and see who can stick the nose the closest to where it belongs… blind folded, of course!  
Have a snowball fight!  Toss balled up socks at each other.  Or, be more civilized and toss them into laundry baskets at varying lengths from you.