Monday 1 December, 2014
Parenting with Scripture: A Topical Guide for Teachable Moments  makes for a meaningful gift! 
(Click on the blue title to go straight to the Amazon Link.)
Stock up now and get one more thing checked off your Christmas list!
Who are the moms, dads, or teachers in your life that would appreciate this great resource?
*Family members
*Friends
*Pre-school or School teachers
*Sunday School, Awanas, or church choir teachers
*Baby presents – Who just had a baby or is due in the next few months?
*Remember those folks who have birthdays around the holidays, too
Idea for what to write inside along with your personalization –
"May God bless you with wisdom as you continue parenting/grand parenting/influencing children with Scripture!"
You can incorporate this into the wording on the inside title page.
Click here to order through Amazon.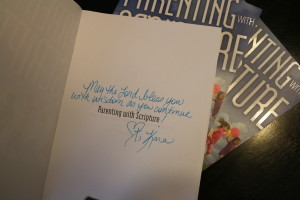 If you are local, I'm happy to sign them for you!

Stay tuned for next week's post: 8 Creative Ways to Celebrate the True Meaning of Christmas!
Comments Off

on Need a meaningful Christmas gift? Stock up and check one more thing off your list!

Posted In:

read more>>