Sunday 4 December, 2011
Whether your children are itty bitty, or teens, serving others by preparing and delivering meals can be blessing to your family as well as the recipient family.  We take meals for friends and family who have had surgery, babies, lost a loved one, or other situations where a meal would help bring relief.  I know first hand the huge help of receiving meals from church friends after we had both of our babies as well as from when my mom was on hospice and right after she went to be with the Lord.  And, while growing up I was blessed to have the example of a mother who made almost as much food for others in need as she did for us!
When my children were little, I set out to find the perfect recipe combination for our family's meal ministry.
It's requirements were that it be:
*child friendly to make
*not too eccentric so even young and picky eaters would enjoy it
*easily duplicable so we could prepare batches for our own family at the same time
*made from a number of pantry or freezer items that we could keep on hand.
*made from only a short list perishable ingredients so I could run to the grocery store and remember the items by memory and not have to pick up too many things.
Here's what I came up with – Hawaiian Ham, Seasoned Green Beans, and Pumpkin or Strawberry Bread (sometimes I'll throw in some packaged Hawaiin rolls, too!)
Hawaiian Ham
Fully cooked ham (about 2 lbs)  (Can be already sliced in pkg)
2 Tbsp brown sugar
1 Tbsp Dijon mustard
6 or more pineapple slices
Arrange ham in one layer or a little overlapping in an ungreased large rectangular casserole dish.  Combine brown sugar and mustard; spread over ham.  Top with pineapple slices.  Pour excess pineapple juice into bottom of the dish.  Bake in 375 degree oven for 10 minutes or until heated through.
Tip:  I usually just take this unheated and give heating instructions.  Whenever I find foil casserole pans on sale for 10 for $10 at our local grocery store I stock up for this purpose!  Be aware that the liquid can sometimes slosh out in transit.  To prevernt a messy car clean up, I usually set the pan on a towel in my floorboard.   Much easier to throw the towel in the wash than clean the car floorboard!  Can you tell I've learned from experience?!
Seasoned Green Beans
1 16 oz pkg frozen cut green beans
3 Tbsp water
2 Tbsp butter
7 tsp brown sugar
½ tsp salt
½ tsp chicken bouillon granules
In microwave-safe bowl, combine the first six ingredients.
Cover and microwave on high 3 minutes, stir, and then 3 minutes more.
Tip:  I put all the ingredients in a gallon ziplock (without cooking it) to make it easy to deliver.  That's cheaper than trying to buy disposable tupperware.  The recipient can just dump the bag contents into a microwavable bowl and be ready to zap and eat!
Pumpkin Spice Cake (Our fall bread recipe.)
Duncan Hines Spice Cake mix (This brand is a must.  For some reason, the other brands don't turn out as well for this recipe.)
1 can pumpkin ( about 15 oz.)
1/2 cup water
Optional:  Add Chocolate chips and/or nuts. (We love dark chocolate chips mixed in!)
Optional:  Sprinkle top with cinnamon sugar before baking.  (We usually skip this.  It's yummy enough without it!)
Beat the cake mix, pumpkin, and water for two minutes in a large bowl.  Stir in chocolate chips or nuts if desired.  Pour into 2 greased and floured loaf pans and bake at 350 degrees about 45 minutes.  You can tell when the cake is firm.  This bread may also be frozen (but it never lasts that long here!)
Tip:  This recipe smells and tastes like the fall season!  Because of that, we only make it mid-Sept through December.  That helps it keep it's special seasonal charm!  We are so in love with this recipe, that we literrally make a batch of this at least once a week throughout that time!
Strawberry Bread(This is our go-to bread recipe any other time than fall.)
3 cups flour
2 cups sugar
1 tsp baking soda
1 tsp cinnamon
½ tsp salt
1 pkg. (10 oz) frozen strawberries, thawed
4 eggs, well beaten (these can be beaten in the well of the big bowl)
1 cup salad oil
Combine and mix thoroughly all dry ingredients.  Make a well in center of mixture and add in liquid ingredients.  Mix by hand and add strawberries.  Pour mixture into 2 greased, floured (just spraying PAM works, too) 4×8 inch loaf pans.  Bake 1 hour at 350 or until toothpick inserted in center comes out clean.  After cooling, refrigerate.   This bread may also be frozen.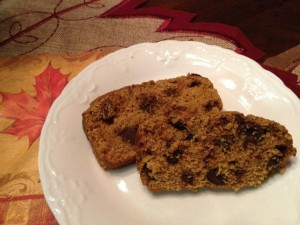 Comments Off

on Cooking with Kids for Others- 4 Recipes Included!

Posted In:

read more>>