Wednesday 30 May, 2012
It's nearing the end of the school year,  and if you're like me, you have a deep pile of your kids' papers that you've saved.
What does one do with all that?  Here are a couple of solutions I've found to work well.
First of all, have a tucked away place where you can make a pile of papers, art, certificates, etc. as they come in throughout the year.    The basket is this year's stuff and the underneath pile is last year's.  I'm a year behind because of our move last summer.  I used to have separate piles for each of my kids but the move threw that off.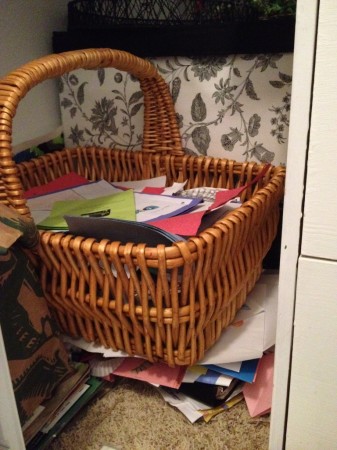 I find it's easier to make decisions of what to keep when time has given some distance and I can compare their importance to other things in the pile.  At some point during the summer, I sit down with the pile and decide what the keepers are.
I started with this as a file system –

This idea was from Family Fun magazine and the boxes are from http://www.uline.com/BL_1401/Carrying-Cases?keywords=carrying.  It looks like they've changed the sizes since I ordered.  Mine are a bit different at 19 1/2 x 12 x 3 inches.  Also, be careful not to lose the pack of handles that comes with the boxes like I did!  I loved the suggestion of putting one of the small school photos on the outside along with the child's name and date.  In the case of filing multiple years in one box, I taped together long sheets of colored cardstock and laid them flat as separators between the piles.  I even use the boxes for storing keepsakes for me and my hubbie.  That's the T & K box.  🙂
Then, my aunt gave us these!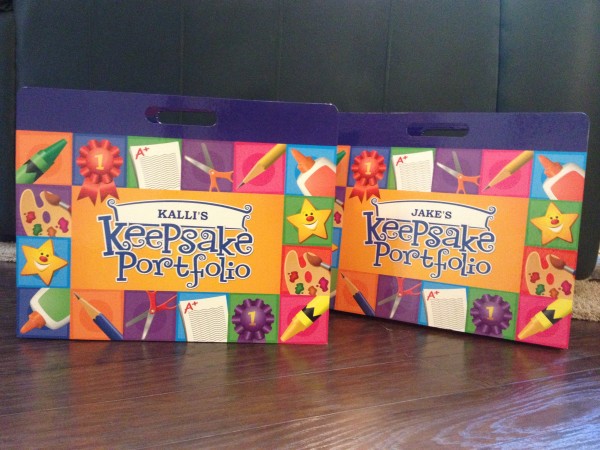 This file system is the "My Keepsake Portfolio" from Lakeshore Learning:
http://www.lakeshorelearning.com/seo/ca%7CsearchResults~~p%7CZZ649P~~.jsp
I love these be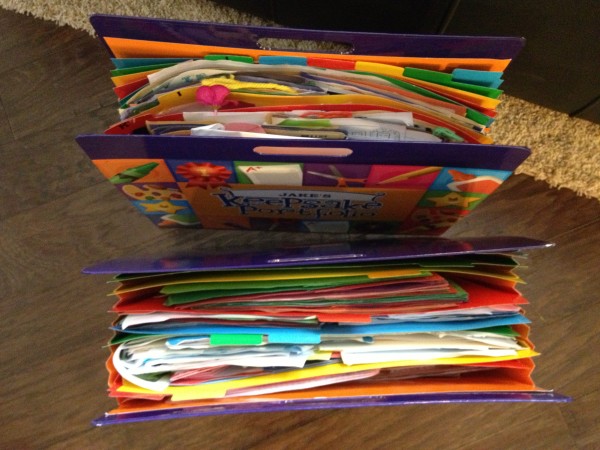 cause they don't seem to take up as much room as the boxes (though they won't hold as much).  And, they are easier to pull out and enjoy going through than the boxes.
This summer, I'll have fun spending some time walking down memory lane and picking the highlights to save.
We moms of today certainly aren't Mary, contemplating her  miraculous son Jesus.  However, we are familiar with treasuring up things about our children and pondering them in our hearts (Luke 2:19).
If you have any ideas or systems that have worked for you, please share!
Happy organizing!
Comments Off

on Organizing Kids' Keepsakes

Posted In:

read more>>