"Honey, every day is Thanksgiving to me!" 
This is what a sweet older neighbor exclaimed when I asked her what she was doing for Thanksgiving.
She didn't know yet when her kids or grandkids would be able to come to share a meal, but it mattered not to her!  She is one of those people who exudes the light of the Lord and joy and gratitude in Him!
The cheerful heart has a continual feast.  Proverbs 15:15b
I want to have a contagious heart of joy and gratitude, too, and teach that to my kids!
Don't you?!

"Thanksgiving is always in our hearts!"
One of my favorite decorations and reminders –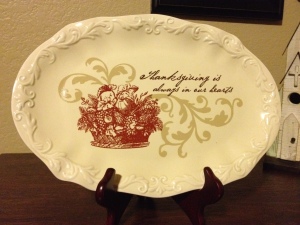 For more on the topics of Appreciation and Thanksgiving, see Parenting with Scripture: A Topical Guide for Teachable Moments.
For more parenting with Scripture Thanksgiving ideas, scroll through these posts.
*Thankfulness Tree
*Grateful Hearts
*Thankful Travel Time
*Thankful Turkey
| | |
| --- | --- |
| Monday 17 November, 2014 | Copyright ©2014, Kara Durbin | read more>> |