Monday 23 May, 2016
Ka-thunk, Ka-thunk, Ka-thunk….not a good sound at 6:30 AM when we have 12 more hours of driving to get back to Texas from Colorado.  We pull off and confirm our suspicions of a flat tire.
While Tim heroically tackled the tire, the kids and I sat quietly waiting.  That's when our Vacationing with Scripture verse card caught my eye.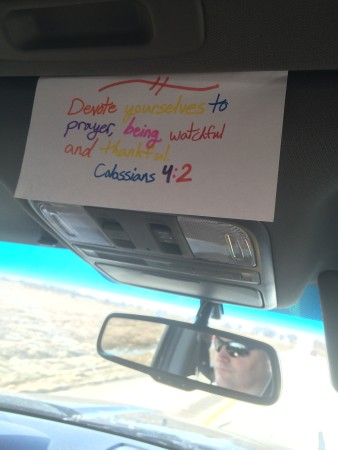 Devote yourselves to prayer, being watchful and thankful.  Colossians 4:2
Hmmm….already frustrated that we were losing time on our already long drive home, maybe considering our blessings would be a good idea.
The kids and I started brainstorming what we could be thankful for –
*just off mountain passes
(ie – PAST the steep windy roads and BEFORE the desolation of New Mexico or West TX)
*able to get off the highway before the tire shred to the rim
*not horribly cold (surprising for a Colorado dawn in mid-March!)
*had a spare
*Tim knows how to put on a spare
*big shoulder for changing safety
*nice guy who stopped to see if we needed help
*Siri/Google helped us know where the repair place is
*tire repair shop close by
*tire shop is open early
Suddenly, the flat tire didn't seem like a big deal anymore!   Yes, it made for a much longer day by adding 2 1/2 hours of repair time to an already 13 hour drive.  However, our hearts were so full of gratitude inspired by God's Word that we no longer had an appetite for complaining.
Going on a trip this summer? 
Try Vacationing with Scripture!  
Click on the blue link above and scroll down to see more examples as well as a how-to.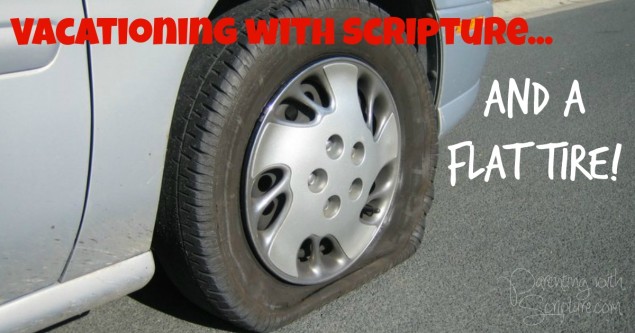 Refer to your copy of Parenting with Scripture: A Topical Guide for Teachable Moments to get ideas for your vacation verse.
Comments Off

on Vacationing with Scripture…and a flat tire!

Posted In:

read more>>