True or False:  The Wise Men were there when Jesus was born.
FALSE!
The Wise Men came from far away.  Following the star, it probably took a couple of years.
After Jesus was born in Bethlehem in Judea, during the time of King Herod, Magi from the east came to Jerusale and asked, "Where is the one who has been born king of the Jews? We saw his star when it rose and have come to worship him."  Matthew 2:1-2
Growing up, my mom let me put our nativity set's wise men on the other side of the room.
My kids always remember this bit of Christmas trivia and I was amused to see how our magnet nativity set appeared on the fridge this year.
It's kind of hard to tell in this picture, but the wise men are "far away" in the upper left!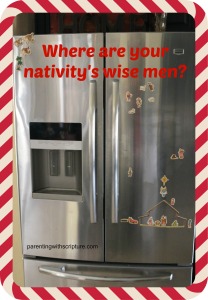 Those with young children might enjoy the "Wise Men" song.
Tune -Here we go 'round the Mulberry Bush
 Motions -Pretend to carry gifts
The wise men came from far away, far away, far away
The wise men came from far away, bringing gifts to Jesus.


Where are your nativity set's Wise Men?
Now you and your kids can be OCD like me and itch to move any
that are nestled near the stable with baby Jesus!
Still shopping for Christmas?
Don't forget to consider
Parenting with Scripture: A Topical Guide for Teachable Moments.
| | |
| --- | --- |
| Monday 15 December, 2014 | Copyright ©2014, Kara Durbin | read more>> |