"Obey right away, all the way, and in a happy way."
Not sure where this quote originated, but I heard it from a couple of moms a church before I even had children.
Pure brilliance in summing up obedience issues.
As I was searching for an image to add to this blog, I stumbled upon some fun ideas.  This site gives a number of fabulous, hands-on ideas for learning or reinforcing the following verse.  http://www.daniellesplace.com/html/bible_themes_o_-_p.html   Make sure you scroll down far enough to get to the "Obey Sunday School Song" and you'll have your chuckle for the day!
Children, obey your parents in the Lord, for this is right.
"Honor your father and mother"—which is the first commandment with a promise—
"that it may go well with you and that you may enjoy long life on the earth."
Ephesians 6:1-3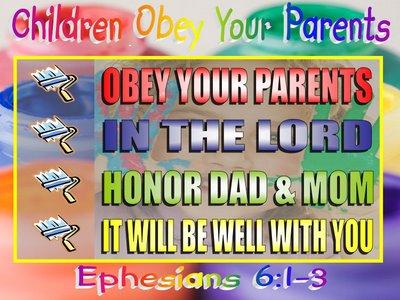 I thought of this series when I was blogging the entries for "Mom said it and now I'm saying it!"
These posts, sprinkled throughout the rest of the summer, will be things I say often that I bet my children will be repeating to their children.
I'd love to hear some of yours!  Please share!
| | |
| --- | --- |
| Monday 23 July, 2012 | Copyright ©2012, Kara Durbin | read more>> |