One of my favorite things about our family trips is the blessings a "trip verse" brings!   Just as the saying goes…
t-shirt – $15
coffee mug – $10
gift shop trinket the kids think they can't live without – $8
Vacationing with Scripture experiences and memories = Priceless! 
If your family is traveling this spring break (or summer…just mark your calendar to revisit this idea), consider picking your own trip verse.  It's as easy as you or your kids flipping through your copy of Parenting with Scripture: A Topical Guide for Teachable Moments and asking God to lead you to the Scripture He wants your family to travel with.
To read what our experiences of vacationing with Scripture have looked like, scroll through these previous posts. 
Here's the verse my son picked and daughter decorated for our spring break road trip.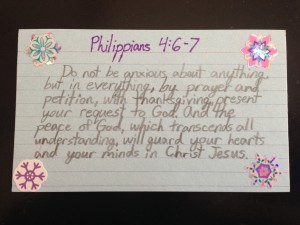 | | |
| --- | --- |
| Monday 3 March, 2014 | Copyright ©2014, Kara Durbin | read more>> |