I love expanding my kids' concept of "church" by visiting other churches when we have occasion to do so.  They see first-hand that it doesn't matter whether the church is big or small, has a building or not, worships with different kind of music than we are used to, etc.
The beauty in this teachable moment is that the church is the  PEOPLE!  And, we've found that worshiping with brothers and sisters in Christ, no matter the mechanics of the church, can be a precious experience.
Did you grow up with this hand motion rhyme like I did?  If not, click here to see it in action.
Here is the church.
Here is the steeple.
Open the doors,
And there's all the people.
Well, my fabulous youth minister turned that around and taught us teens the more Biblically accurate, though non-rhyming version.
Use the same motions, just change the words…
Here is the building. 
Here is the steeple.  
Open the doors, 
And there's the church! 
Use both versions for a fun way to teach your kids the truth of the "church = people," NOT the building.
The blessing of visiting other churches while on vacation –
I have wonderful memories from growing up of visiting my grandparent's church, my aunt and uncle's church, and even a sweet little frame church surrounded by palm trees in Hawaii on a vacation my dad won.
We've tried to be deliberate about taking our kids to other churches as we've had the opportunity.  Our kids have had the experience of
– visiting their cousins' huge church,
– their other cousins' very formal church,
– Florida friends' more contemporary church,
– Aunt and Uncle's church in Indiana (where they quickly picked up we were from Texas because of our accents!)
– And our favorite…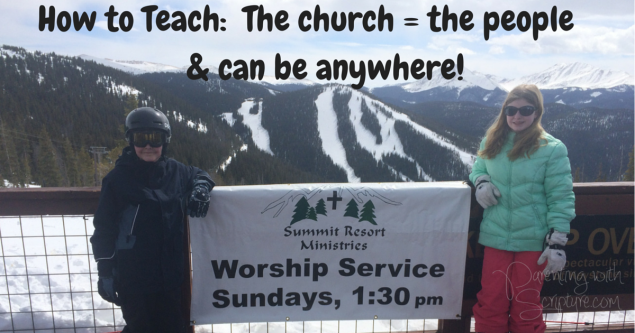 –  The church pictured above is made up of travelers from all over who happen to be in Keystone, Colorado on a Sunday.  We worship, not in a building made by man, but in our Creator God's majestic mountains!
The blessing is that my kids have seen first-hand and learned that it's our common bond in Christ that matters and not the how, when, or where. 
This summer, consider visiting another church as part of your travel or staycation plans.
Now you are the body of Christ, and each one of you is a part of it.
1 Corinthians 12:27
For just as each of us has one body with many members, and these members do not all have the same function, so in Christ we, though many, form one body, and each member belongs to all the others.
Romans 12:4-5
Just as a body, though one, has many parts, but all its many parts form one body, so it is with Christ.
1 Corinthians 12:12
For more teachable moments, don't forget to refer to your copy of Parenting with Scripture: A Topical Guide for Teachable Moments.
| | |
| --- | --- |
| Monday 18 May, 2015 | Copyright ©2015, Kara Durbin | read more>> |