President's Day is a good time to stop and remember that our nation's leaders need our prayers.  Here are a few resources that may be helpful to your family, both today and in the future.   
Family:
To be honest, our family is not great about remember to pray for our leaders.  In an effort to help give us a creative and tangible way to do this for the future, we are going to make these prayer cards.
Leaders & President Prayer Cards and Game:  Take some spare change and tape the coins individually to index cards.  You can make as many as you wish.  On the other side of the index cards, write ways to pray for our leaders.  Brainstorm as a family to think of ideas such as health, wisdom, growing walk with the Lord, wise counsel, safety, strong family, etc.  For younger children, hide them and pray for each item as the child finds them.  If your family has older children or teens, they may prefer to pass around the cards as the items are lifted up in prayer.   When finished, put the cards in a safe place so you can pull them out for ideas whenever you wish to pray for the leaders of our country.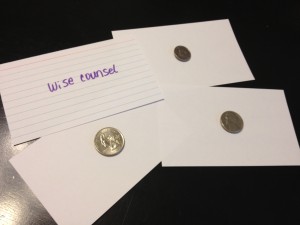 Older children, teens, and adults:  Visit http://www.presidentialprayerteam.com/and browse to see the many prayer resources included on this site.  You may wish to join the prayer team to receive e-mails as reminders and with specific ideas for how to pray.
Children:  This article has fun, active, and hands-on ideas written for 6-9 year olds.  I think it will also work well for younger and older kiddos. http://childrensministry.com/articles/presidential-prayers
| | |
| --- | --- |
| Monday 18 February, 2013 | Copyright ©2013, Kara Durbin | read more>> |