The annual National Day of Prayer is a wonder time to pause and remember to be grateful for our great country and to lift it up in prayer. 
Creative ways to pray for America on this day or any day can be found at
www.commit2pray.com and www.nationaldayofprayer.org and include:
*Pray as a family the same prayer people will be praying all across the nation on May 1:
The 2014 National Prayer written by Anne Graham Lotz plus audio links  – Click here
*Record your prayer for America:
 From the website, "We want to hear from you! Call (719) 559-9566 to record your prayer for America!"
*Sign a declaration to commit to pray for America – Click here
*Download Prayer Guides and other materials for the National Day of Prayer – Click here
*A favorite idea I ran across is the Prayer balloon Launch Kit.  Click here.  This would be so much fun for families or church groups!   Make your own version by grabbing a few helium balloons at the grocery store, writing your family prayers for America on homemade tags to attach to the balloons, and launching them from your home!   
2014 National Day of Prayer Theme: One Voice, United in Prayer.  
"So that with one mind and one voice you may glorify the God and Father of our Lord Jesus Christ."  Romans 15:6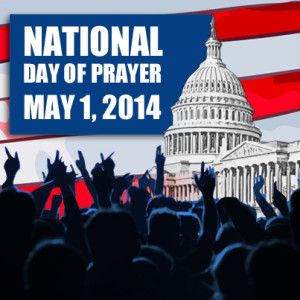 For more on the topic of Prayer, see your copy of
Parenting with Scripture:  A Topical Guide for Teachable Moments.
| | |
| --- | --- |
| Monday 28 April, 2014 | Copyright ©2014, Kara Durbin | read more>> |