I was also confused when her publicist contacted me! 
I thought, "What does Goat Milk Stuff have to do with Parenting with Scripture?!"
It turns out, quite a lot! 
PJ Jonas, Founder and Owner of Goat Milk Stuff, is the mother of 8 homeschooled kids and runs the business with her husband and family.  She has been asked so often about her parenting that she decided to share her wisdom. 
Thus, her creation of Raising Healthy Kids Blog and the Busy Mom Podcast. 
I loved chatting with PJ as we recorded our conversation for the podcast.  PJ is a master at naturally incorporating Scripture into her family's daily life and is great at sharing tips on how she does it.  You'll also enjoy hearing her talk through the Jonas family list of favorite verses.  I'm printing them and adding them to my list of favorites! 
Take a listen if you want
training, encouragement, or a refresher on parenting with Scripture!
Click here for Part 1 of my Parenting with Scripture interview for the Busy Mom Podcast.
Click here for Part 2 of my Parenting with Scripture interview for the Busy Mom Podcast.
PS – The Goat Milk Stuff products are truly wonderful!  She sent me a number of samples that we are appreciating and I'd like to order some more when we run out!  Love that they are made with natural ingredients!  www.goatmilkstuff.com
PPS – Please try to overlook my excessive use of "Absolutely,"  "you know," and my thicker than usual Texas accent in these podcasts.  I think the "over coffee" style of the interview brought out the less formal chit chat in me!  🙂
The Jonas Family + Goat!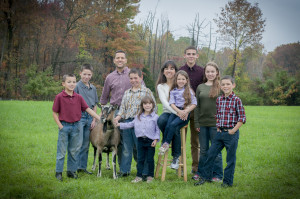 To have topical verses at your fingertips when those teachable moments arise, 
order a copy of Parenting with Scripture: A Topical Guide for Teachable Moments.
| | |
| --- | --- |
| Monday 21 April, 2014 | Copyright ©2014, Kara Durbin | read more>> |