Being Type A, I find that I develop a system for just about everything I do.  That includes marking books so that I can easily go back through them to find the content I found helpful without having to re-read the whole book.  As I read, I underline key points and then write one of these key words at the top corner of the page.
Do!
Get!
Quote!
Re-read!
That way, when I finish the book, I can go back through and plan out how to put the "do's" into practice, make a list of the things to "get,"  remember quotes for future reference, and know which parts I found helpful enough to want to re-read for the future.  Often, these re-read chunks are quite lengthy.  Therefore instead of underlining the whole thing, I simply draw a line down the side of the portion.  This is faster and cleaner looking than multiple underlines.
Another purpose for making these notations in the book is sharing the information with my husband.  After I finish a helpful book, we plan a time for me to review the information with him.  Together, we can discuss what those action items look like for our family and get on the same page for implementing them.
Here's a visual from the book I'm currently reading –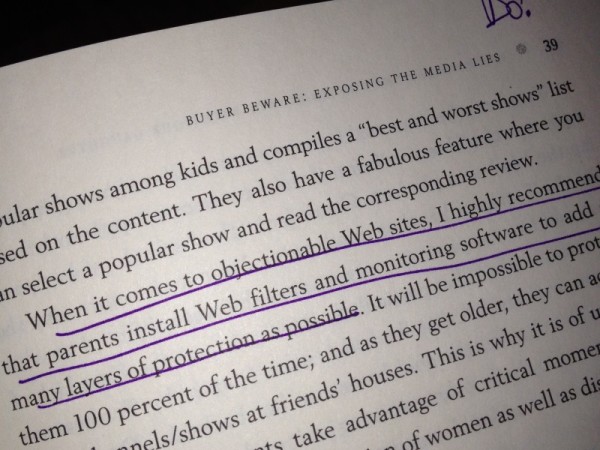 If you have any tips for how to apply this system to e-books, please let me know!  This is one of the things that keeps me from converting!
| | |
| --- | --- |
| Wednesday 22 February, 2012 | Copyright ©2012, Kara Durbin | read more>> |