Your family's pumpkin carving can turn into a meaningful and memorable lesson!
We are  fans of Liz Curtis Higg's book, The Pumpkin Patch Parable.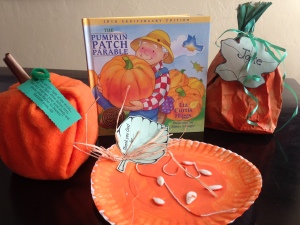 This is written for preschool through early elementary and has great Biblical analogies for the whole pumpkin growing and carving processes!  These principles have stuck with us beyond those ages as we continue to discuss them during our annual carvings.
Quick Pumpkin Craft Instructions, left to right:
Toilet Paper Pumpkin – Cut orange felt and wrap a roll of toilet paper, stuffing the edges in the top.  Roll a piece of brown paper and stuff in for the stem.  Wrap a green pipe cleaner around a pencil to make a curly-q.   Attach the following verse.
You are the light of the world…let your light shine before men, that they may see your good deeds and praise your Father in heaven.  Matthew 5:14a, 16b
Paper Plate Pumpkin –  Paint a paper plate orange.  Glue raffia bow, pumpkin seeds, and green paper leaf that says, "Thank you God for…."
Paper Bag Pumpkin –  Stuff a brown paper bag with crumpled newspaper, paint 3/4 orange and 1/4 green or leave it brown.  Tie green curly ribbon to create the tendrils and attach a green paper leaf with the child's name on it. 
"What other time do friends, neighbors, and strangers knock on your door and ask for a treat?!"  I wish I could remember who I heard say that years ago because I would thank him or her for the impression it made on me.  What could be a better treat than the "Good News?!"
My family makes the most of this opportunity by having tracts mixed in with the candy bag.  American Tract Society www.atstracts.org has a number of fun Halloween themed, child-friendly tracts available for ordering.
Because we are out trick-or-treating with our own children on Halloween night, we are not at home to pass out the treats.  So, every year we decorate a brown grocery bag, fill it with candy and tracts, and leave it on the porch along with a note instructing the trick or treaters to only take 2-3 things.
Who knows whether or not they all abide by "take 2-3 things" note, but we figure whoever gets the tracts are the ones meant to have them.  My kids love prepping the bag and then together we pray over the bag that God would use the tracts to help the recipients learn more about Him and salvation through Jesus.
Have another  idea for bringing God's Word into Halloween?  Please share!
I know Halloween can be controversial among Christians.  Let's not get into that debate here, please.  🙂
| | |
| --- | --- |
| Monday 20 October, 2014 | Copyright ©2014, Kara Durbin | read more>> |