Here's a fun and easy Valentine's idea that can be nice decoration AND provide meaningful, parenting with Scripture style, teachable moments throughout the month of February!
LOVE TREE DIRECTIONS:
Assembling –
*Gather several bare branches and put them in a pitcher or vase.
*Cut out 16 hearts big enough to write a few words on.
*Punch holes in the tops of one of the sides.
*Use any type of ribbon or string to tie loops on them for hanging.
*Go ahead and hang all 16 hearts on the tree.
I used a cheap, but cute, plastic container, gathered the branches from outside, stuck them in floral foam in anchor them, then covered them in glass beads for a pretty way to weight them down.  (Use something other than the glass beads if you have little ones that put things in their mouths!)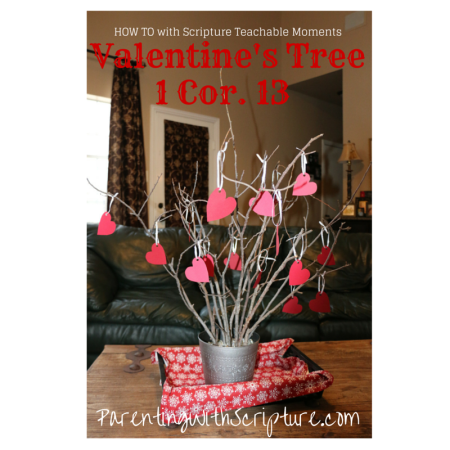 Teachable Moments How-To:
*Each day, create teachable moment at your family meal time or family devotional time.
*Write one of the snippets of 1 Corinthians 13 (broken down below into 16 parts/days)
*Discuss it.  Parenting with Scripture: A Topical Guide for Teachable Moments is a good resource to help you with the discussion.  Look up applicable topics and see the "Discussion" portion. 
Modification for young children:
Make it your "Love is Kind" tree.  (1 Cor. 13:4)
*Each day, ask your child who God wants her to be kind to.
*Write that name on the heart.
*Discuss ways your child can be kind and loving toward that person.
OR…
*Each day, ask your child a way she can show kindness.
*Write that kindness attribute on the heart.
*As teachable moments come up throughout the 16 days, refer back to the "ways to be kind" that are on the hearts.
16 teachable moments for 16 days
1 Corinthians 13:4-8a 
Love is patient,
love is kind.
It does not envy,
it does not boast,
it is not proud.
It does not dishonor others,
it is not self-seeking,
it is not easily angered,
it keeps no record of wrongs.
Love does not delight in evil
but rejoices with the truth.
It always protects,
always trusts,
always hopes,
always perseveres.
Love never fails.
For more Scripturally meaningful Valentine ideas, scroll down through these past blog posts.
HAPPY VALENTINE'S!
| | |
| --- | --- |
| Monday 2 February, 2015 | Copyright ©2015, Kara Durbin | read more>> |