Trying again!  Everything is up and running correctly now and those of you signed up for my e-mail subscription feed should actually get this one!                         
I'm thrilled to finally announce the launch of my new professionally designed and customized website! 
www.parentingwithscripture.com
Feel free to head on over and browse around.  In addition to the content that was on the old site, you'll see a video where I explain what teachable moments are as well as one where I walk you through a sample topic.  Also, don't forget about the Downloads section.  It's all free and much better organized in this new website format.  If your church, MOPS group, etc. is looking for a speaker, check out my Speaking section.  And as always, the best way to keep being encouraged to parent with Scripture on a regular basis is to sign up by e-mail for my weekly blog updates.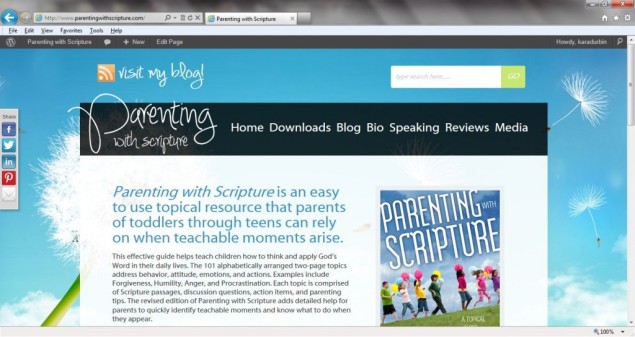 | | |
| --- | --- |
| Monday 29 October, 2012 | Copyright ©2012, Kara Durbin | read more>> |