Celebrate July 4th beyond the burgers and fireworks by using the 13 strips of the Grand Old Flag as prayer points or Scripture strips for our nation!  Display this project in your home as a reminder to continue to pray for our nation.
Start by making or printing out a picture of a flag to use for either the version below. 
You can keep this as simple as you want or go all out crafty!  Pinterest and Google Images have lots of options.
*Printable Option:
http://www.internetfamilyfun.com/images/wallpaper/wallameriflag640.gif
*Coloring Page Option:
http://www.coloringcastle.com/pdfs/flags/flag-usa-123.pdf
*Simple Craft Option for younger kids:
http://funhandprintartblog.com/2012/05/handprint-american-flags-eagles-patriotic-crafts-round-up.html
*Simple Craft Options for older kids:
http://www.allkidsnetwork.com/crafts/4th-of-july/paper-american-flag.asp
Prayer Point Version:
Brainstorm with your kids different ways to pray for our nation.  Don't forget, as the verse reminds us below, to give thanks as well!  Write one way on each of the stripes of the flag.
Bible Verse Version:
Write out 1 Timothy 2:1-2 on the stripes of the flag and display it in your home to help your family remember to lift our country up in prayer.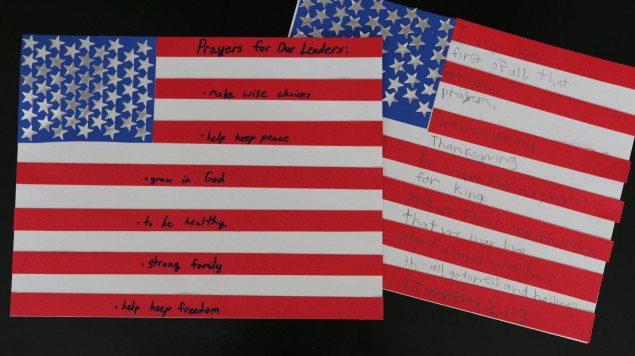 Click here for a children's sing-along of The Grand Old Flag from YouTube to familiarize your children with this patriotic song by playing it while working on the project.
I urge, then, first of all, that petitions, prayers, intercession and thanksgiving be made for all people—
for kings and all those in authority,
that we may live peaceful and quiet lives in all godliness and holiness.
1 Timothy 2:1-2
Don't forget to keep an eye out for teachable moments and reference your copy of
Parenting with Scripture: A Topical Guide for Teachable Moments
to help you and your kids know what God has to say about the topics!
 Happy 4th of July!
| | |
| --- | --- |
| Monday 30 June, 2014 | Copyright ©2014, Kara Durbin | read more>> |