I am convinced that creating traditions for our families is one of the most important parts of parenting.  A church friend of mine started the tradition of acting out the Easter story in their den when their oldest, now 11, was still quite little.  Several years, 3 kids, and lots of treasured memories later, they are still at it.
How did this special tradition get started?  I'll let her share…
"We read aloud to our children quite a bit when they were young.  They enjoyed the Read Aloud Bible Stories by Ella Lindvall.  They would hear "A Sad Day and a Happy Day" from Volume 2 often.  They knew the sequence of Jesus dying for our sins and age appropriate details of his death.  We talked with them about the quiet weekend and then celebrating Jesus rising from the dead on Resurrection Day.  Also, we have always had a big box full of stuff that serves as props for pretend play.  It holds things like costumes, big pieces of fabric, sashes and hats.
One Easter weekend, Alisa was playing in her room and began to act out the story.  We encouraged it by bringing out couch cushions for the "tomb".  As the children aged each year (and God brought us Hannah), they would act it out in more detail.  We did not anticipate that this would become a tradition.  All we did was read and talk about truths of the Bible.  I think kids will act out stories that they know and that's what they did."
Here's a peek into the VanEerden living room from a couple of the years!
From 2009 – Left to Right
– Jesus being wrapped in cloth in the tomb
– Angel rolling the stone away
– Soldier fainted
– Nail scarred hands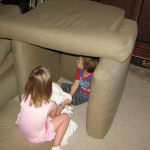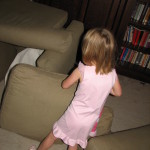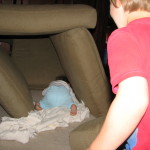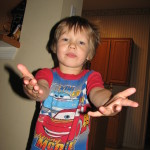 From 2012 – Left to Right Below
– Carrying the cross
– Jesus on the cross being pierced in the side
– Woman at the tomb, soldier fainted
– Happy JESUS IS ALIVE!!!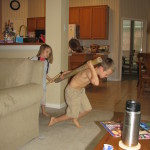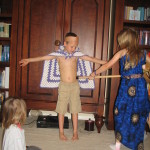 I'm willing to bet that these kids will carry on this tradition with their own children some day.  Don't you think so?
What's your favorite family Easter tradition?
Not sure about the true meaning of Easter?
Or, do you struggle in knowing how to explain the purpose of Easter to your children?
See the topic of "Salvation" in your copy of Parenting with Scripture: A Topical Guide for Teachable Moments.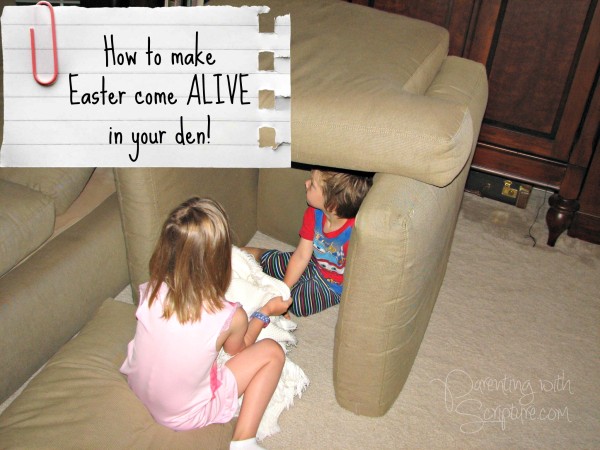 | | |
| --- | --- |
| Monday 30 March, 2015 | Copyright ©2015, Kara Durbin | read more>> |