Grace.  That word carries such peace within it.  It means not getting what we deserve.  God loves us no matter what!  This is a principle we try to speak of often with our children.  Just as God loves us all unconditionally, so do we as parents love them.  We ALL sin and make mistakes and are in need of God's grace.  We say regularly that there is nothing they could ever do that could keep us from loving them.  We may be grieved at their actions, but we will still love each of them as a person.  We remind them that they can come to God and us for forgiveness for anything.  In this day in age where suicide is sadly a too common way out, we want it engrained in our children that they can always, always, always turn to us and God…no matter how bad they think the situation is. 
"Does this mean we can do anything we want?" a precocious or wise child might wonder?   Romans 6 helps answer that question.  "What shall we say, then? Shall we go on sinning so that grace may increase? By no means! We are those who have died to sin; how can we live in it any longer? Or don't you know that all of us who were baptized into Christ Jesus were baptized into his death? We were therefore buried with him through baptism into death in order that, just as Christ was raised from the dead through the glory of the Father, we too may live a new life."   Romans 6:1-4
In him we have redemption through his blood, the forgiveness of sins, in accordance with the riches of God's grace. 
Ephesians 1:7
This sign hangs above our pantry and I love the daily reminder.  The older I get, the more  I realize how broken we all are and how much we are need of grace from God and each other.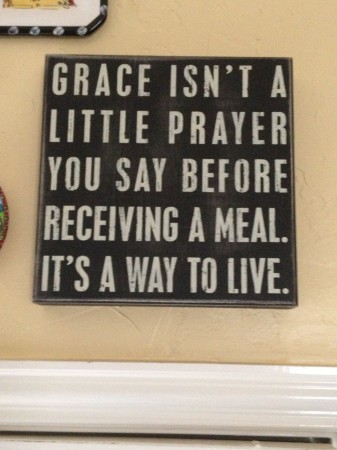 | | |
| --- | --- |
| Monday 14 October, 2013 | Copyright ©2013, Kara Durbin | read more>> |