Since we are half way through the summer and year and not amid the holiday rush, it's a great time to consider getting the pieces together for an Advent Tree.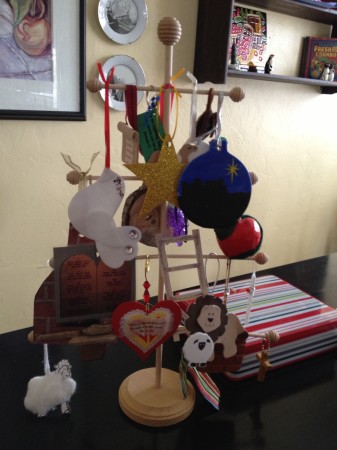 The book we use (click to link to Amazon):
This has been such a blessing to our family!  It's something we all look forward to during December, and it's a tradition I know our children will want to continue with their own families.  We made a set with a group a couple of years ago.  This summer, a gal at our church has coordinated another group.  I'm going to make a second set so we can alternate each year and so I'll have a set to pass along to each of my children. 
There are a several ways to go about making a set.  If you want to do it on your own, you could simply photocopy the pictures from the book we use, have your children color them, laminate them, and turn them into ornaments by hole punching and adding a ribbon or string.  Or, if you are looking for crafty projects this summer, you could make an ornament or two each day.  Another idea is to do a group swap.  It's a fun way to involve friends and efficiently get it done.  25 people each take a day's theme and make 25 of the same ornament.  Then, get together and swap ornaments so everyone ends up with a full set.  It's neat seeing other people's creativity.
I haven't reviewed these books to be able to recommend them, but it looks like they've made the ornament making a bit easier if you are wanting to make them on your own.  (Click to link to Amazon.)
 Merry Christmas in July!
| | |
| --- | --- |
| Monday 8 July, 2013 | Copyright ©2013, Kara Durbin | read more>> |